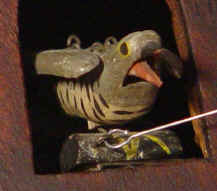 Welcome to Dalton Clock Repair!
Please take a moment to explore the website, check out the "clocks for sale" page which contains beautiful examples of time pieces that have been restored and are ready for a new home. The "restoration" page serves as an informational portal to show the steps involved in restoring a time piece back to its original glory.
Please don't hesitate to contact me with any questions regarding the repair or sale of a treasured time piece. I am always on the lookout to purchase unusual clocks. If you have an unusual or interesting time piece, email pictures and pricing information or call me at the phone number listed below.